CCPA Compliance
The app used for assuring the GDPR/CCPA/APPI/PIPEDA compliance of this site, collects your IP and the email address in order to process the data. For more check
Privacy Policy & Terms of Service
Data Rectification
You can use the link below to update your account data if it is not accurate.
Data Portability
You can use the links below to download all the data we store and use for a better experience in our store.
Access to Personal Data
You can use the link below to request a report which will contain all personal information that we store for you.
Do not Sell My Personal Information
You can submit a request to let us know that you do not agree for your personal information to be collected or sold.
Right to be Forgotten
Use this option if you want to remove your personal and other data from our store. Keep in mind that this process will delete your account, so you will no longer be able to access or use it anymore.
What products do you offer?

All information about our products are available here. Feel free to ask any questions if you have any via our contact form available on our website or call us: +48 51 50 50714.
Can you explain the features of your products?

All features are presented in our technical specifications cards. You can find them for all our products here.
Do you offer any additional paid options for your products?

For VOITAS WALLBOX: 

We offer additional accessories for VOITAS Wallbox which are optional and additionally paid: VOITAS Smart Meter, VOITAS RFID tokens, VOITAS Base. You can read more about them in our technical specifications cards, which you can find here. 
Is there an option for products personalization in any aspect?

Unfortunately our products could not be personalized. However, we provide a few options for our wallbox and extension, including different cable length or type of connection. You can find them in our online shop.
Do the products have quality certificates?

VOITAS V11 complies with the following directives and most important harmonized norms: EU (LVD) Directive 2014/35/EU, EU (EMC) Directive 2014/30/EU, EU (RED) Directive 2014/53 /EU,the Electrical Equipment (Safety) Regulations 2016, RoHS, PN-EN IEC 61851-1:2019-10E, PN-EN IEC 61316:2022-04,PN-EN 62196-2:2017-06.Both V11 and X11 have a Certificate of Verification of Manufacturer's Declaration of Conformity issued by the certification body TÜV Rheinland Polska Sp. z. o. o., which confirms the compliance of our devices with the requirements of Directive 2014/35/EU.
Do you offer different models of wallboxes with varying power capacities?

At this moment, we only offer one type of wallbox due to its power, the VOITAS Wallbox V11 with a maximum power of 11kW. Our specialists are constantly working on a 22kW version, and we hope it will be available soon.
Are your products compatible with all types of EVs?

The VoitasWallbox can charge any EV as long as it is suitable for a Type-2 socket. This applies to BEVs as well as to Plug-in hybrid vehicles.
How does the RFID of the VOITAS Wallbox work?

RFID activation is possible when you purchase your wallbox. The RFID is registered to a user via the app. Before each charge, you hold the RFID directly to the scan of the wallbox. This authorizes the charging process. This is especially helpful if you use your wallbox with multiple users, and want to keep a separate overview of the charging statistics. Please note that the RFID scan only works with our VOITAS RFID.
Do you have a dedicated mobile application for your products? If so, how do you use it?

Yes we have mobile app for our products called VOITAS APP. You can find Quick Start Guide here.
How long is the guarantee period for your solutions?

We offer a two-year guarantee on all of our products.
How can I place an order for your products?

To place an order please visit our online shop here. You can find all information about our products there and see possible options.
Can I order your products online, or do I need to contact a sales representative?
What is the lead time for order processing and delivery?

The order processing and delivery time depend on several factors. You can find information about the approximate order processing time by clicking on a specific product. This time is highlighted in green.
Is there a minimum order quantity for your products?

No, you can place any order you want, we do not require a minimum order quantity.
Can I receive updates on the status of my order, such as processing, shipping, and delivery notifications?

An order confirmation with relevant order details and shipping information will be sent to the email address provided during the order process. Each order is assigned a unique order number, which is displayed both in the 'Check-out' order review and in the confirmation email. It is used for better order tracking and should be provided when inquiring about order confirmation.
What is your policy for canceling an order, and is there a timeframe within which I can do so?

If you wish to cancel your order before it is shipped, please contact us as soon as possible using the contact form or via email: support@voitas-innovations.com
What payment methods do you accept for orders?

We accept the following payment methods: Visa, Master Card, American Express, PayPal, and prepayment. Payment is made in advance. The goods will be shipped only after successful payment confirmation.
Do you accept payments in multiple currencies for international customers?

We accept payments in PLN and EUR.However, your bank may offer automatic conversion of the amount to another currency. Please refer to the information provided by your bank.
How will I know if my payment has been successfully processed?

After successful payment procedure you will be informed via your email. You will also receive an invoice for your order.
What should I do if I encounter an error during the payment process, such as a declined card?

If you encounter an error during the payment process you will get an email with a "Pay now" link. After clicking, you will be redirected to a page that allows you to make a payment again.
How are product prices determined, and are there any taxes, fees, or additional charges to consider?

All prices quoted are final prices and include 19% VAT. There are no additional fees or taxes.
Are there discounts or special offers for bulk orders?

To get information in this regard, please use the Partner tab on our website.
Can I request an invoice or payment receipt for my purchase?

An invoice for your order is always sent to the email provided during the order placement. You don't need to request this document.
Are there any additional fees associated with payment processing?

There are no additional charges related to payment processing. The price we provide is the final price.
How is the shipping cost calculated for your products?

Our deliveries are always free and do not depends on any factors.
Do you offer international shipping for your products?

We offer shipments to Poland, Germany and Austria.
What is estimated delivery time for domestic and international shipping?

We ship our products using DHL. After sending the product, domestic delivery (within Poland) should arrive within 24-48 hours, while international delivery may take up to 96 hours, depending on the distance to the recipient country.
Can I specify a preferred delivery date or address?

We ship our products as quickly as possible to the address provided during the order, unless the customer requests otherwise. After we send the products, you will receive an email with the tracking number and the option to manage the shipment. Use this option to check possible operations on the shipment.
Can I track my order in real-time, and where can I access tracking information?

This option is provided by the courier company that delivers your products. After we send the products, you will receive an email with the tracking number.
Can I update the shipping address after my order has been placed?

If you would like to change the shipping address before the product is shipped, please contact us through the contact form. After we have dispatched the item, you can check the options provided by the courier company using the tracking number you receive.
What should I do if my order arrives damaged or missing parts?

If you notice any damage while the courier is present, do not accept the package and create a damage report with the courier. If you only notice the damage after opening the shipment, please contact us via the contact form. We will do our best to assist you.
Can I return a product if it does not meet my expectations?

You have the right to cancel your order within 14 days (cancellation period) from the day you received the items, provided that the product has not been installed, in use or mechanically opened.
To which address should I return the products?

Please send the products together with the return form to the following address:

Voitas Innovations GmbH
At the Auer Bach
885084 Reichertshofen Germany
Which postal service should I use?

You can use any post service provider you like but remember to send products on proper address and to provide return form with the product.  

 
Are there restocking fees for returns?

We will repay the outstanding balance to the source of payment you used at order completion. You will not be charged any fees. 
How can I initiate a return or exchange?

The return form can be found on our website in Contact section. Please fill out the form and attach it to the package so that we can identify your order and return your funds. 

Please send an email to support@voitas-innovations.com upfront to ensure informing us within 14 days after you received the items. We will get back to you with the confirmation within 48 hours. Our office hours are Monday through Friday.
How long does it take to return products?

We will start the repayment process, once we received your return delivery. We will inform you via e-mail once we have received your return. 
We expect the returned items to arrive to us in a normal condition. That means the package and items should not be broken or show any evidence of other damage. 

The items should not show any evidence of external influence or damage to the housing and its components. The products must not have been mechanically opened by you or any third parties (e.g. removing screws of housing is prohibited). 

If you opened the products the cancellation of contract will turn ineffective and you will not receive a repayment. 
SERVICE QUESTIONS AND CONTACT
How can I get technical support for your products?

If any problem occurs first check our FAQ for technical problems, you may find answer there. If that does not help, feel free to contact with us. You can use Contact Form or call us: +48 51 50 50 714.
Do you offer installation services for your products?

Yes, we offer installation services for our products. For more details please call us: +48 51 50 50 714.
Can I find user manuals and installation guides on your website?

All important documents are available for you on our website in download section. All documents are provided in three languages: German, English and Polish.
Are there any specific maintenance or care instructions for your products to ensure their longevity and performance?

For VOITAS WALLBOX: 

The VOITAS WALLBOX must be installed in a roofed and protected place, where no direct sunlight or rainfall can occur, because it is not insured in case of damage caused by these conditions. 
Do you have a list of steps to follow in case of problems?

1. Check the power supply

a. Make sure the device is properly connected to a power source.

b. Make sure the power source is functional and providing power.

2. Check the charging cable, both the power cable and the cable with the Type 2 plug. Remember to do this when the device is unplugged!

a) Inspect cables for visible damage, such as frayed wires, loose connectors, or damaged insulation. If something seems wrong, do not connect the device to the power supply and contact us as soon as possible.

3. Check the wallbox display.

a) Check the displayed LED patterns and compare them with those in the user manual in the LED effects section (page 16 for the EN version).

4. Reset the wallbox.

a) Remove the plug from the socket or switch the device off using the button for at least 30 seconds and then switch it on again. Check if anything has changed.

5. Clean the plug. Remember to do this when the device is unplugged!

a) Inspect the plug on the wallbox and on the vehicle for deposits, dirt or corrosion.

b) Try to clean the connectors with a soft, dry cloth to ensure a good connection.

6. Contact customer service.

a) If the problem persists after following the above steps, contact us using the contact form or call us:
+48 51 50 50 714.
What is your customer service contact information?

You can contact us using our contact form or call us: +48 51 50 50 714.
Are there social media profiles or online communities where customers can connect with your company and other users to discuss products and solutions?
How long does it typically take you to respond to customer inquiries via email or website?

We do our best to respond within 24 hours. Please note that this applies to working days.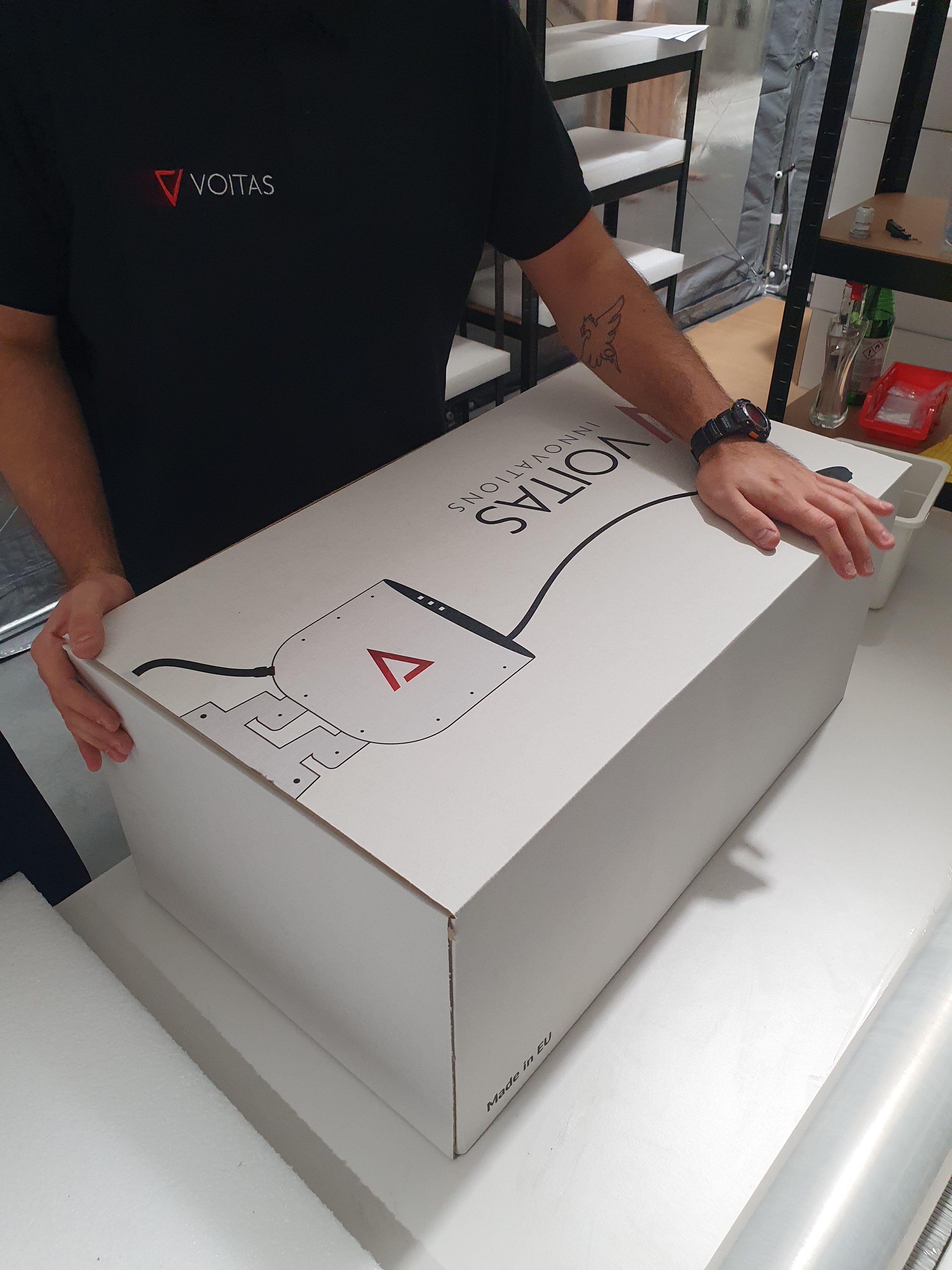 German-Polish friendship
As a global start-up, we are already represented with locations in Germany and Poland. We build on the European expertise of our team.