GDPR Compliance
The app used for assuring the GDPR/CCPA/APPI/PIPEDA compliance of this site, collects your IP and the email address in order to process the data. For more check
Privacy Policy & Terms of Service
Data Rectification
You can use the link below to update your account data if it is not accurate.
Data Portability
You can use the links below to download all the data we store and use for a better experience in our store.
Access to Personal Data
You can use the link below to request a report which will contain all personal information that we store for you.
Right to be Forgotten
Use this option if you want to remove your personal and other data from our store. Keep in mind that this process will delete your account, so you will no longer be able to access or use it anymore.
In our download center you will find all important documents with information about our products. If you want to request a return, see our terms and conditions.
User Manual
Our operating instructions or manual for installers can be found in German and English.
VOITAS V11 - Gebrauchsanweisung / User Manual
VOITAS Smart Meter - Gebrauchsanweisung / User Manual
VOITAS V11 - Technisches Datenblatt DE
VOITAS V11 - Technical Specifications ENG
VOITAS V11 - Specyfikacja techniczna PL
VOITAS X11 - Technisches Datenblatt DE
VOITAS X11 - Technical Specifications ENG
App Quick Start Guide
You are using the VOITAS Wallbox for the first time. Read our Quick Start Guide to set up the app correctly and link it to the wallbox.
App Quick Start Guide GERMAN
App Quick Start Guide ENGLISH
Produktübersicht
Du möchtest all unsere Produkte auf einen Blick, weil du deinen Interessenten und Partnern eine Übersicht geben möchtest.
Produktübersicht - Deutsch
Product overview - English
Returns
We hope that you like our VOITAS product. Should you still want to return your items, read our conditions for returns below.
How do I return my items?

The return form can be found on the bottom of this page. Please fill out the form, and attach it to the package so that we can identify your order and return your funds.

In general, you have the right to cancel your order within 14 days (cancellation period) from the day you received the items, provided that the product has not been installed, in use or mechanically opened. If the cancellation period expires, and you wish to return items at a later date, the products must not been installed, in use or mechanically opened.

Please send an email to support@voitas-innovations.com upfront to ensure informing us within 14 days after you received the items. We will get back to you with the confirmation within 48 hours. Our office hours are Monday through Friday.



Which address should I send it to?

Please send the products along with the return form to the following address:

Voitas Innovations GmbH
Am Auer Bach 8
85084 Reichertshofen
Germany

Avoid damage and contamination of the goods. If possible, the goods should be returned to us in the original packaging. If necessary, a protective outer packaging can be used. If you no longer have the original packaging, please use other packaging suitable for shipping. This should provide adequate protection against damage in transit and avoid claims for damages due to inadequate packaging.

Which postal service should I use?
How long is the cancellation period?

14 days from the day you have received the items. The products should be sent unopened (the seal of the package should not be broken) and in its original packaging.
When will I get my refund?

After you cancelled your contract, and sent the items back to us, we will reimburse you all payments we have received from you, including delivery costs at the time of purchase.

We will repay the outstanding balance to the source of payment you used at order completion. You will not be charged any fees. Please note that we start the repayment process, once we received your return delivery. You should send the items back within the cancellation period, starting from the day you cancel your contract. We will inform you via e-Mail once we have received your return.
Can a repayment be revoked?

We expect the returned items to arrive at VOITAS Innovations in a normal condition. Normal means the package and items should not be broken or show evidence of any other damage.

Further, the items should not show any evidence of external influence or damage to the housing and its components. The VOITAS Wallbox and all other products (Smart Meter) must not have been mechanically (e.g. removing screws of housing etc.) opened by you or any third parties.

If you opened the products and its components the cancellation of contract will turn ineffective and you will not receive a repayment.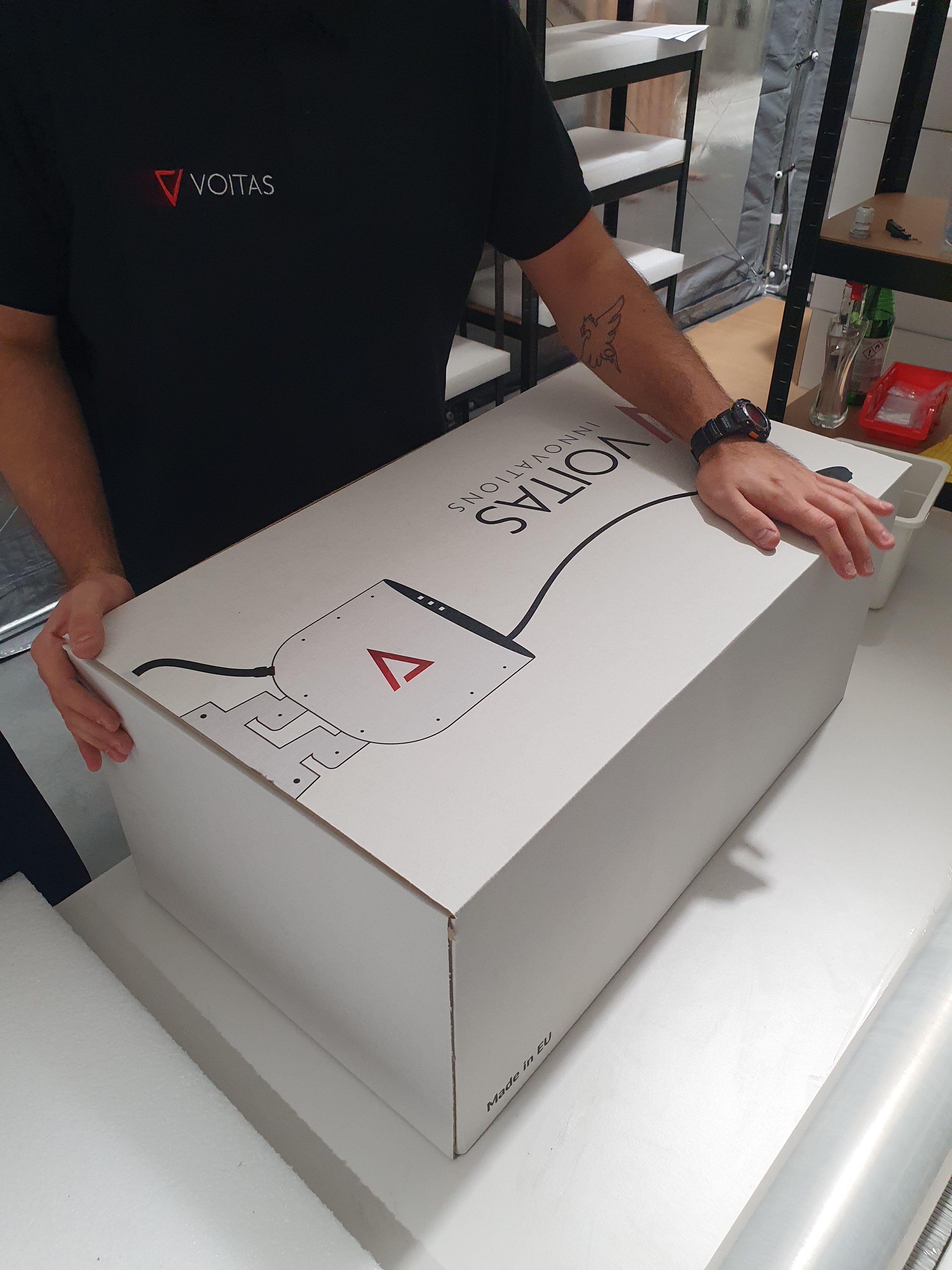 German-Polish friendship
As a global start-up, we are already represented with locations in Germany and Poland. We build on the European expertise of our team.